Palantir
Peek right into your game state
Palantir is a live game state inspector for DragonRuby game developers.
No code changes needed.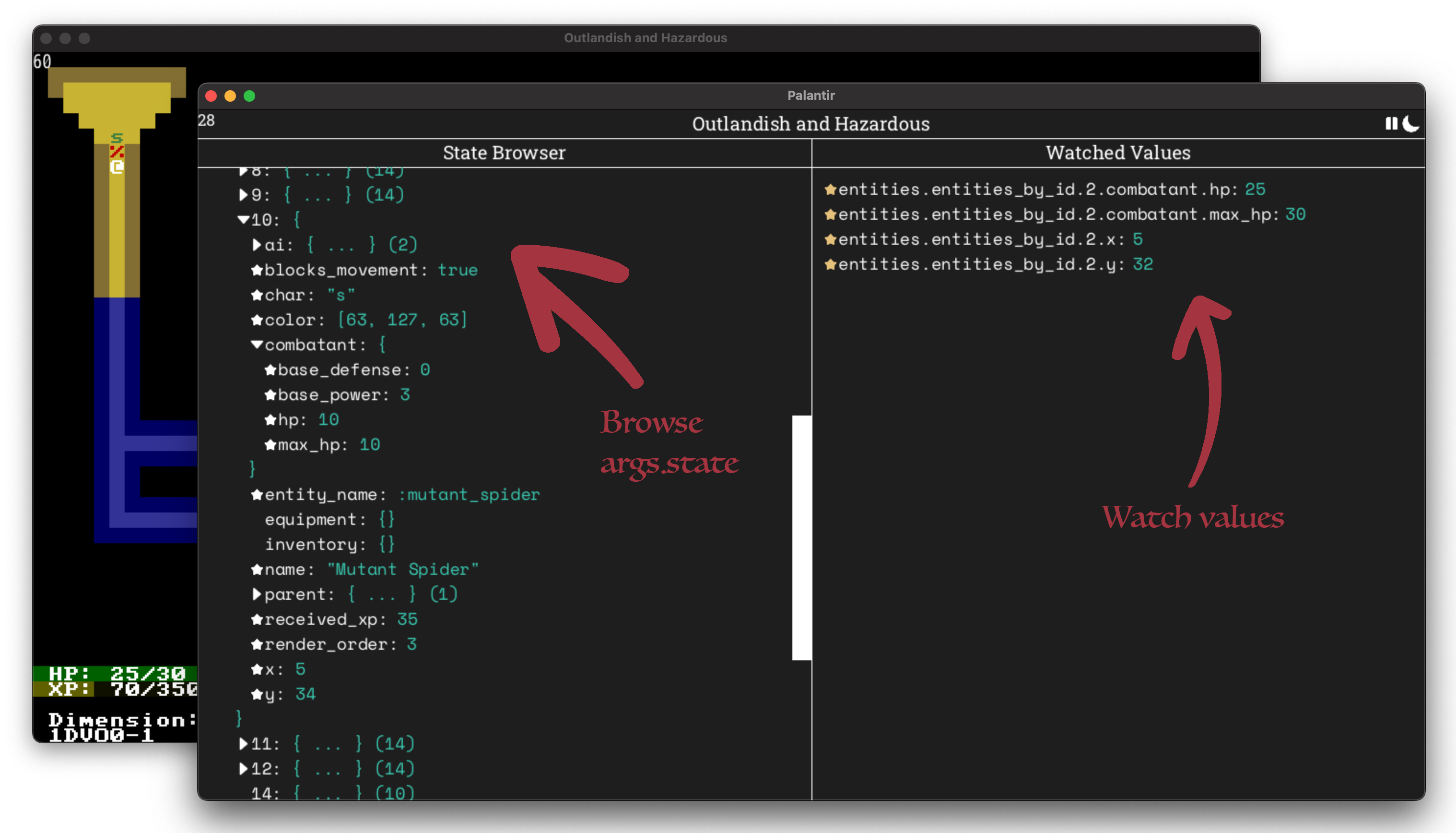 Just start it while your game is running and you will be able browse and watch the contents of args.state in a separate window.

Feel free to try out and play around with the UI at the top of this page.
Before buying
Please make sure to read the EULA which you can find here (it basically comes down to: Don't redistribute/sell it, don't reverse engineer it and I'm not responsible for any damage caused by using Palantir). By purchasing Palantir you agree to those terms.
Free license
I employ the same free license conditions as the DragonRuby game engine itself...
You are eligible for a free license if any of the following items pertain to you:
Your income is below $2000 (USD) per month.
You are under 18 years of age.
You are a student of any type: traditional public school, homeschooling, college, boot camp, or online.
You are a teacher, mentor, or parent who wants to teach a kid how to code.
You work/worked in public service or at a charitable organization: for example public office, army, or any 501(c)(3) organization.
Just contact me at palantir-dragonruby [AT] proton.me or by messaging kfischer_okarin on the DragonRuby Discord with a short explanation of your current situation and I'll set you up. No questions asked.
Credits
Purchase
In order to download this game state inspector you must purchase it at or above the minimum price of $5 USD. You will get access to the following files:
palantir-windows-v1.0.0.zip
3 MB
palantir-macos-v1.0.0.zip
4 MB
palantir-linux-v1.0.0.zip
3 MB
palantir-windows-dev-build-20230528-e52eceb.zip
3 MB
palantir-macos-dev-build-20230528-e52eceb.zip
5 MB
palantir-linux-dev-build-20230528-e52eceb.zip
3 MB